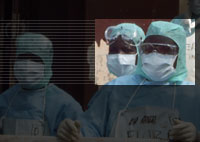 You are a nurse in Africa.
An epidemic is breaking out.
Would you help, if you knew you might die the same horrible death?
Meet the Ebola nurses who did just that.
12 of them died.
Why did they do it?
Canadian filmmaker David Belluz takes us to Africa, and documents a battle against a modern-day plague.
It's a timely tale in an age of new heroes; new dangers.


| PRESS RELEASES | FILM SYNOPSIS | PHOTOS | FILM CREDITS | MEET THE TEAM |
| ENDORSEMENTS | ABOUT EBOLA | FURTHER READING | FUNDED BY |
WEB SITE ©2002 ALETHIA PRODUCTIONS INC.
WEB SITE DESIGN BY CSI MULTIMEDIA