Creative Team

David Belluz - Producer, Writer, Director, Cinematographer
David has a passion for Africa and the stories it holds. He has worked in southern Sudan, Rwanda, Burundi and Zimbabwe. David also holds a BA, Honours, with High Honours in Religious Studies from the University of Regina. In 2001, David established Alethia Productions Inc. "Ebola War: The Nurses of Gulu" is his first television documentary. Other projects include coverage of the controversial 2002 Zimbabwe elections and survival stories from Uganda's child soldiers.
Lori Kuffner - Senior Producer
Since 1992, Lori has created internationally recognized and honoured documentaries including the Bronze Apple award-winning "The People in Black" and Gemini nominated "The Boys Who Loved Hockey". Her stories, which are seen around the world, range from families affected by suicide, to today's top sports figures, to historical works. She is President of Cooper Rock Pictures Inc..
Daryl K. Davis - Editor, Story Consultant
Daryl has won numerous awards in 20 years of creating TV programs and films as producer, writer, director, editor and cinematographer. His credits include several Gemini nominated productions including "Walking with Giants: Grizzlies of Siberia" and "Home on the Range". Recent works include the series "The MAXimum Dimension", "Canadian Women of Courage" and "Leap of Faith: The Nicole Watt Story".
Cary Ciesielski - Sound Designer
For five years, Cary has created acclaimed sound designs. His film credits include "Dinosaur Hunter" and "Borderline Normal". Scores of documentaries feature his mixes, including the series "Canadian Women of Courage" and the art film "Daisy". The award-winning 30-minute film "Janus" was written, directed and composed by Cary.

Marina Orsini - Narrator
Winner of the Prix Gemeaux - Best Actress for her role as Emile Bordeleau in "Les Filles de Caleb". Most recently in the mini series 'The Last Chapter/Le Dernier Chapitre", she was nominated for a 2000 Gemini Award for her starring role in the TV movie "Dr. Lucille: The Lucille Teasdale Story". This program explored Canada's pioneering doctor - who along with her husband Piero Corti, transformed medical care and facilities in Uganda. Dr. Lucille died in 1996 from AIDS after contracting HIV in a Ugandan field hospital. Her passion for healing was passed on to the nurses featured in "Ebola War: The Nurses of Gulu".
J. Douglas Dodd - Composer of original score for "Ebola War"
Three dozen film and television productions feature Dodd's music. He is also a performer, music director, arranger. His six commissioned works include the Parliament Hill presentation "Reflections of Canada - Symphony of Sound and Light". He has extensive theatre and symphony credits including the Jessie Richardson Award, and a Genie nomination.
Joëlle Rabu - Vocalist
Winner of 2 Jessie Awards for her performance in the long-running "Piaf, Her Songs, Her Loves". As a singer/songwriter she and Dodd have created six albums, and performed around the globe. Rabu is described as "Magnifique in any language". She appears with symphony orchestras, on television and in 1997 founded the Young Island Voices Children's Choir.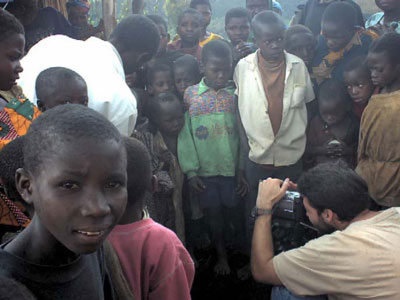 Location shooting is a specialty of director David Belluz, seen here on location in Burundi, filming another documentary.
| PRESS RELEASES | FILM SYNOPSIS | PHOTOS | FILM CREDITS | MEET THE TEAM |
| ENDORSEMENTS | ABOUT EBOLA | FURTHER READING | FUNDED BY |
WEB SITE ©2002 ALETHIA PRODUCTIONS INC.
WEB SITE DESIGN BY CSI MULTIMEDIA